PI (PRINCIPAL INVESTIGATOR)
sociologist and researcher at ICS-ULisboa, in the field of Human-Animal Studies. Since October 2018 she coordinates the project "CLAN - Children-Animals' Friendships: challenging boundaries between humans and non-humans in contemporary societies" (PTDC/SOC 28415/2017). She is a member of the LIFE Research Group, and the coordinator of "Animal Wonder - Reading Group on Human-Animal Studies @ICS-ULisboa". 
CO-PI (CO-PRINCIPAL INVESTIGATOR)
Sociologist and a researcher at the ICS-ULisboa. Her favourite sicentific themes are: children and childhood, family and schooling, children and animals, new ethical dilemmas in the research with children. She is currently the chair of the Scientific Council at ICS-ULisboa and a member of the Directive Commitee of the RN04 Children and Childhood, European Sociological Asssociation).
Researcher at ICS ULisboa
Sociologist t ICS-ULisboa. She has dedicated herself to research, teaching and science communication about social practices around food and meals, namely through research about food poverty, sustainable food consumption, and food habits of families with children. She has several publications on these themes, both by international and national publishers.
Leonor Bettencourt Rodrigues
Post-doc researcher with a PhD in Social, environmental and Community Psychology. Her research topics have been around social policy and intervention with vulnerable populations. She is currently developing a research project (FCT individual scholarship) about the complexity and ambivalence in child protection decision-making.
Teresa Líbano Monteiro é doutorada em sociologia (ISCTE-IUL) (2007). Lecionou Teorias Sociológicas e Métodos de Investigação na Faculdade de Ciências Humanas da Universidade Católica Portuguesa (1993-2017). Em 2013, esteve no Centre Max Weber (Lyon- France) para desenvolver investigação na àrea dos Human-Animal Studies.
Researcher at ICS ULisboa
I am an anthropologist (PhD 2007) and a research fellow at the Institute of Social Sciences, University of Lisbon since 2014. My main fields of research are material culture and consumption, international migrations and media anthropology. Presently, I am PI of TRANSITS – Material Culture, Migration and Everyday Life
Vasco Ramos (Lisbon, 1976), is a postdoctoral researcher, with a PhD in Sociology from the University of Lisbon. Among other interests, his research has focused on issues such as social inequality, class and mobility, and family sociology. More recently, he has focused on food, food practices and human-animal studies. Currently, he is a researcher at CLAN, conducting ethnographic work with children and pets, with interest in understanding how specific categorisations of non-human animals relate to food practices and preferences.
Since 2009 he has worked on several projects at ICS-UL, namely on a research project on family trajectories and social networks, coordinated by Karin Wall. Currently, he is part of the Life research group LIFE – Life Course, Inequality and Solidarities: Practices and Policies. He also collaborates with OFAP - Observatory of Families and Family Policies. As a postdoc researcher, he was part of the Portuguese team working on the ERC funded research project Families and Food in Hard Times. Since August 2017, he is developing a research project (based on an individual post-doctoral fellowship from the FCT) entitled Living with Uncertainty: Enduring Precariousness over the life course.
Licenciado em Estudos Europeus pela Faculdade de Letras da Universidade de Lisboa e Mestre em Antropologia pelo ISCTE/UTAD. É atualmente bolseiro de investigação no projeto CLAN no Instituto de Ciências Sociais. Os temas de pesquisa prediletos enquadram o relacionamento entre humanos e animais não-humanos.
Rita Gouveia is post-doc researcher at the Institute of Social Sciences of the University of Lisbon (ICS-ULisboa). She has a BA in Social Psychology, a Master in Psychology of Education and Development, and a PhD in Sociology of Family, Gender, and Youth. Since 2014, she is member of the Executive Board of the RN13 Sociology of Families and Intimate Lives of the European Sociological Association and she was board member of the European Society of Family Relations (ESFR) between 2012 and 2018. Over the last decade, she has been strongly engaged in the development of theoretical and empirical research on families, personal networks, conjugalities, and life course at both national and international level. Another transversal dimension of her research interests is the permanent investment in innovative methodologies and complex datasets, such as social network analysis or longitudinal designs. She is currently investigating the changing meanings and practices of family in personal networks of gay men and lesbians in Portugal.
PhD in Psychology (ISCTE – University Institute of Lisbon, 2016), and is currently Postdoctoral Research Fellow at the Institute of Social Sciences, University of Lisbon (ICS-ULisboa), and Invited Assistant Professor at Faculdade de Ciências Humanas, Catholic University of Portugal (FCH-UCP). His main interest is researching transitions towards healthier and more sustainable consumption habits, with a main focus on plant-based diets. He is also interested in understanding the psychology of human exploitation/protection of non-humans and the natural environment.

Board-certified biologist. Degree in Biology by the Faculty of Sciences of the University of Lisbon. Complementary course on Philosophy by the Faculty of Social and Human Sciences of the New University of Lisboa. Certificate in Animal Welfare by the CUAWIC/Cambridge University. Advanced education in Bioethics, Grief and bereavement, Qualitative methods and Science Communication. He is actually investigator at the Institute of Environmental Health and at the Center for Bioethics.

Ana Horta is research assistant at the University of Lisbon, Institute of Social Sciences (Portugal). She holds a PhD in Sociology from ISCTE-IUL (University Institute of Lisbon). Her main research interests are focused on social practices and representations related to energy transition, energy poverty, and media discourses on energy issues and climate change. She has also been interested in food, food insecurity, and human-animal relations. In the project "Between the school and the family: children´s food knowledge and eating practices" (2011-14) she analyzed the relations between children and animals. Recently, in her free time she has also been conducting research on dog walking. 

Doctor of Veterinary Medicine (DVM) by the Faculty of Veterinary Medicine, Technical University of Lisbon. University Specialist in Odontology and Maxillofacial Surgery by the Complutense University of Madrid. Master of Science (MSc) in Oncology by the Biomedical Sciences Institute Abel Salazar, University of Oporto. European Master of Small Animal Veterinary Medicine in Dentistry by the University of Luxembourg. Doctor of Philosophy (PhD) in Veterinary Clinic by the University of Lisbon. Fellow of the Academy of Veterinary Dentistry (FAVD). Since 2003, she has been dedicated to cat and dog clinics, in particular general surgery, oncological surgery, reconstructive surgery, oral surgery and odontology. Since 2014, she has been an invited assistant professor at the Faculty of Veterinary Medicine at the University of Lisbon, where she teaches in the area of medicine, surgery and anesthesiology. She is also the coordinator of the optional course "Supplementary studies in odontology and oral surgery in dogs and cats" . She is also a researcher at the Clinical Research Laboratory of the Interdisciplinary Research Center for Animal Health at the same faculty. She is responsible for the odontology and oral surgery of the Veterinary School Hospital. She was president of the European Veterinary Dental Society and is currently president of the Portuguese Small Animal Veterinary Association and elected member of the General Assembly of the Portuguese Veterinary Medical Association.

Developmental and clinical psychologist, and psychotherapist. Phd in Psychology at Faculty of Psychology of the University of Lisbon. Master in Psychology (ISPA), Sociology of Health and Illness (ISCTE), Social and Cultural Anthropology (ICS-UL), and Bioethics (FML). Invited Assistant Professor at the Faculty of Medicine of the University of Lisbon. Postdoc researcher in the Instituto de Ciências Sociais da Universidade de Lisboa. Researcher in Núcleo Académico de Estudos e Intervenção sobre o Luto/Centro de Bioética da FMUL
Rui Pedro Fonseca is a research fellow in Sociology of Culture, by CIES-IUL. His current research interests are centered on the representations of "food animals" displayed by the dominant culture, namely the educational system. There is also a particular interest in understanding the practices and attitudes of (human) individuals that deal with these animals, both in the context of animal exploitation and through the practices that involve their consumption. 
Investigador de Pós-Doutoramento
Andrea Pavoni is post-doctoral researcher at DINÂMIA'CET ISCTE-IUL, University Institute of Lisbon. Drawing from various areas such as critical geography, urban studies, legal theory, sociology and philosophy, his research explores the relation between materiality, normativity and the urban from various interdisciplinary angles. Among his current interests, he is investigating the normative relation between animals and the city as it dramatically changes in the age of planetary urbanisation. Andrea is a fellow at the Westminster Law and Theory Lab, co-editor of the Law and the Senses Series(University of Westminster Press), and associate editor at the journal Lo Squaderno, Explorations in Space and Society. His book, Controlling Urban Events. Law, Ethics and the Material, is out with Routledge.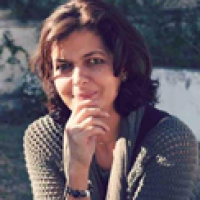 Leonor Galhardo is a biologist, with a Master's degree in Applied Animal Behaviour and Animal Welfare (Edinburgh University) and a PhD in Animal Science (University of Oporto), in the scope of which she published studies on fish psychological stress and welfare assessment. She worked for the General Directorate of Veterinary and Food (DGAV), being an animal welfare consultant for the last 20 years. Over this time she has developed fruitful cooperation activities with competent authorities, professional groups and international NGOs. The implementation and enforcement of legislation related to wild animals in captivity was one relevant focus of her technical activities in the scope of which the 'EU Zoos Directive Good Practices' was published. Animal welfare education is also a very important part of her career, having coordinated and taught in numerous animal welfare courses for students and animal-related professionals. She is a lecturer at ISPA-University Institute (Lisbon), where she teaches animal welfare related topics and runs a post-graduate course on animal welfare.