HAS-HUB INTERNATIONAL SEMINAR
HAS-Hub International Seminar
Joint session with Biodiverse Anthropocenes
7 de junho 2022 - 10h00 (zoom)
Imaging, narrating, institutionalising and realising multispecies justice
The distinction between humans and all other beings has been foundational to the institutions of political, economics, law, knowledge and narration that have dominated the modern west. Multispecies justice belongs to a family of frameworks that are seeking to simultaneously deconstruct this foundational geography and imagine alternative ways of knowing, being and living together better equipped to support the flourishing of all earth beings. Given the doxic character of anthropocentrism, this task demands an ecology of approaches, synthesising strategies of narration and institutional transformation. In this talk, I will explore the challenge of multispecies justice and some of the paths scholars might forge to realise it.
Oradora convidada: Danielle Celermajer
Danielle Celermajer is a Professor of Sociology and Social Policy at the University of Sydney, Deputy Director of the Sydney Environment Institute and lead of the Multispecies Justice project. A longtime human activist, before joining the academy she was head of Indigenous policy at the Australian Human Rights Commission and worked in grass roots democratization and human right movements in Central America. As a human right scholar, her books include Sins of the Nation and the Ritual of Apology and The Prevention of Torture: An Ecological Approach (both with Cambridge University Press 2008 and 2018), with Richard Sherwin, A Cultural History of Law in the Modern Age (Bloomsbury 2019), with Alex Lefebvre, the Subject of Human Rights (Stanford University Press 2020), and with Moira Gatens and Millicent Churcher, Institutional Transformations: Imagination, Embodiment, and Affect (Routledge 2021).
In recent years she has turned her attention to injustices and violence against the more than human. Through the experience of living through the black summer bushfires with a multispecies community, she began writing about a new crime of our age, Omnicide. Her latest book, Summertime (Penguin Random House, 2021) was written in recognition of the critical urgency of conveying the complex conceptual recognition of the multispecies harms of the climate catastrophe in ways that can provoke affect and hence action.
HAS-Hub International Seminar 
9 de junho 2021 - 10h00 (Zoom)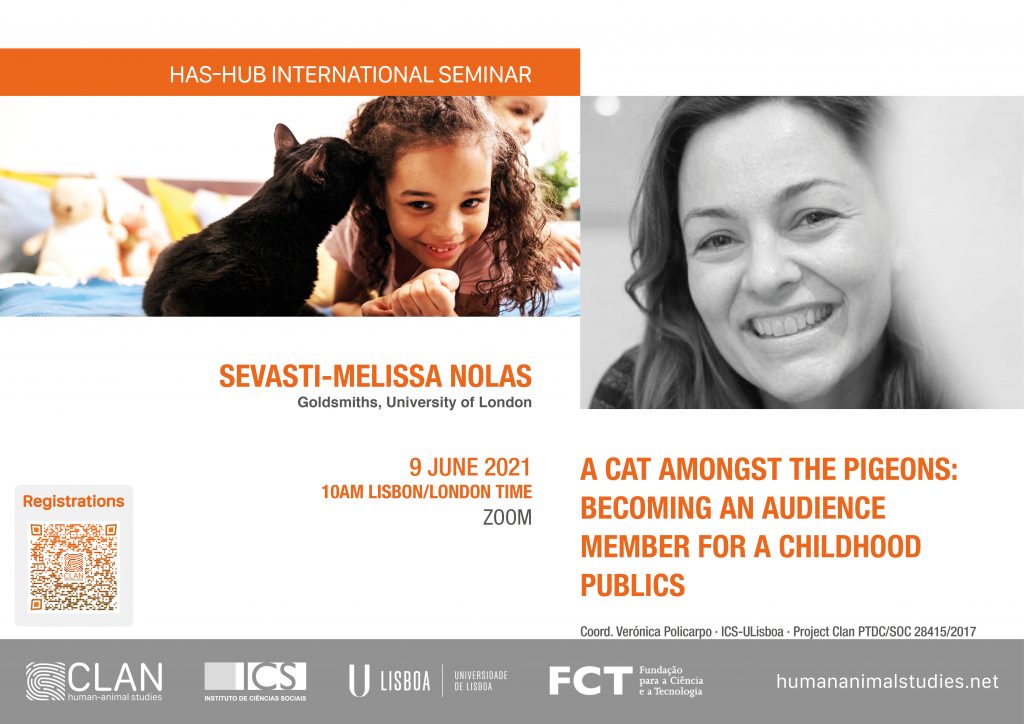 A cat amongst the pigeons: becoming an audience member for a childhood publics
Geographer Clive Barnett (2014) has described public life as 'a family of practices of sharing with others' and has argued that any analysis of transformations to the institutional configuration of publics must pay close attention to ordinary contexts of everyday life and to seriously consider what matters to people, engaging with what he calls 'vocabularies of worth'. In this presentation, I focus on children's 'vocabularies of worth' that emerged in a three-country study on children's everyday lives and their encounters, experiences and engagement with public life, as those related to the animals in their lives, in their neighbourhoods and cities, and in their imaginations. Through a reflexive analysis of the study's multimodal ethnography and our public engagement activities, I focus on the figure of the audience for a childhood publics. In childhood studies, the case has long been made for listening to children but less attention is paid to who does the listening, what sort of audience member they might need to be, and how they might need to 'pay attention' in order for children's voices to resonate as intended. The presentation explores the many different ways in which animals were part of the lexicon of children's vocabularies of worth. I argue that attention in the field and in analysis was commanded through noise and antihistamines, as well as encounters with pigeons, cats and caterpillars (and dogs and peacocks and elephants and fish and meerkats and dolphins… and… and… ), and their representations in children's photo-stories, poetry, and drawings. A tentative and provisional conclusion is reached that an audience for a childhood publics is one whose members allow themselves to become 'undone', and in so doing rediscover their childish ways again.
Oradora convidada: Sevasti-Melissa Nolas
Goldsmith, University of London
Melissa Nolas teaches in the Department of Sociology at Goldsmiths, University of London. She is the co-director of the research programme Childhood Publics and of the Children's Photography Archive. She also co-edits the online journal entanglements: experiments in multimodal ethnography. Her most recent research focuses on the relationship between childhood and public life, multimodal ethnography, and publics creating methodologies. Prior to this she spent a number of years critically researching welfare, well-being and social support for children, young people, and women/mothers. 
Seminário de Abertura – Animais, Literatura e Artes
22 de Setembro 2020 - 18h00 - ICS-ULisboa (Zoom)
Gonçalo M. Tavares, escritor português e professor universitário na Faculdade de Motricidade Humana, nasceu em 1970. Os seus livros deram origem, em diferentes países, a peças de teatro, peças radiofónicas, curtas metragens e objectos de artes plásticas, vídeos de arte, ópera, performances, projectos de arquitectura, teses académicas, etc.
Em Portugal recebeu vários prémios entre os quais o Prémio José Saramago 2005 e o Prémio LER/Millennium BCP 2004, com o romance – "Jerusalém" (Caminho); o Grande Prémio de Conto da Associação Portuguesa de Escritores "Camilo Castelo Branco" com "água, cão, cavalo, cabeça" 2007(Caminho). Prémio Branquinho da Fonseca/Fundação Calouste Gulbenkain com "O Senhor Valéry", Prémio Revelação APE com "Investigações. Novalis". Prix du Meuilleur Livre Étranger 2010 (França). Prémio Fernando Namora 2011 com "Uma viagem à Índia". Prémio Virgílio Ferreira 2018. 
HAS@ICS-ULisboa 2019 – Children-Animals Relationships
6 June 2019 - 10h00 - ICS-ULisboa, Room: Polivalente
Rabbits and Children: A Complicated History
This talk will look at the history of rabbits and children—a relationship that we take for granted today, but that is much more complicated than it appears.
The talk will cover the origins of the rabbit/child connection in the myths and symbols of cultures around the world, many of which play on the rabbits' biological propensity for reproduction.
Those myths evolved into, for example, the centrality of the rabbit in children's Easter celebrations, the dominance of rabbits as the subject of children's stories and toys, the boom in rabbit breeding during the Victorian era, and ultimately, the concept of the rabbit as a children's or "starter" pet for families around the world.

Oradora convidada: Margo de Mello
Animals & Society Institute, USA
Received her Ph.D. in Cultural Anthropology from U.C. Davis in 1995. She is an Adjunct Professor at Canisius College in the Anthrozoology Masters Program, and the Program Director for Human-Animal Studies at the Animals and Society Institute. Her books include Bodies of Inscription: A Cultural History of the Modern Tattoo Community (2000), Stories Rabbits Tell: A Natural and Cultural History of a Misunderstood Creature (2003), Low-Carb Vegetarian (2004), Why Animals Matter: The Case for Animal Protection (2007), The Encyclopedia of Body Adornment (2007), Feet and Footwear (2009), Teaching the Animal: Human Animal Studies Across the Disciplines (2010), Faces Around the World (2012), Animals and Society: An Introduction to Human-Animal Studies (2012), Speaking for Animals: Animal Autobiographical Writing (2012), Inked: Tattoos and Body Art around the World (2014), Body Studies: An Introduction (2014), and Mourning Animals: Rituals and Practices Surrounding Animal Death (2016).