Who is the Post-Human Animal?
We don't know yet! We have just begun becoming with each other, as we move fluidly through authors, texts, readings and spoken words. We first met each other, against all odds, during the pandemic summer of 2020, at Rosie Braidotti's Summer School on Post-Human Knowledge. As the world had gone digital, we sat daily, for several hours in a row, to passionately discuss the possibilities and emergence of different ways of knowing, and being in, the world, beyond human centeredness and exceptionalism.
As birds of a feather, we soon flocked together, and this was how the idea of putting together a reading group on post-humanism and nonhuman animals was born. We then settled around the idea of a webinar where we can meet online every 4 months, to discuss important works in post-humanist scholarly literature that address "the animal question".
We are researchers, educators, students, artists, practitioners… We come from different disciplinary backgrounds, different countries and continents. From this collaborative movement and through our encounters, we expect to better understand the contingent and ever-changing multispecies entanglements that characterize our common life-worlds.
If the question of dwelling in a more egalitarian multispecies world triggers you… and if you are comfortable with not knowing, but instead constantly seek to be surprised… you will find here a space of intellectual freedom, debate and mutual respect, to imagine a more liveable world to all species.
For more info e-mail us at:
Three online sessions per year, every four months, beginning in January 2021: January, May, September.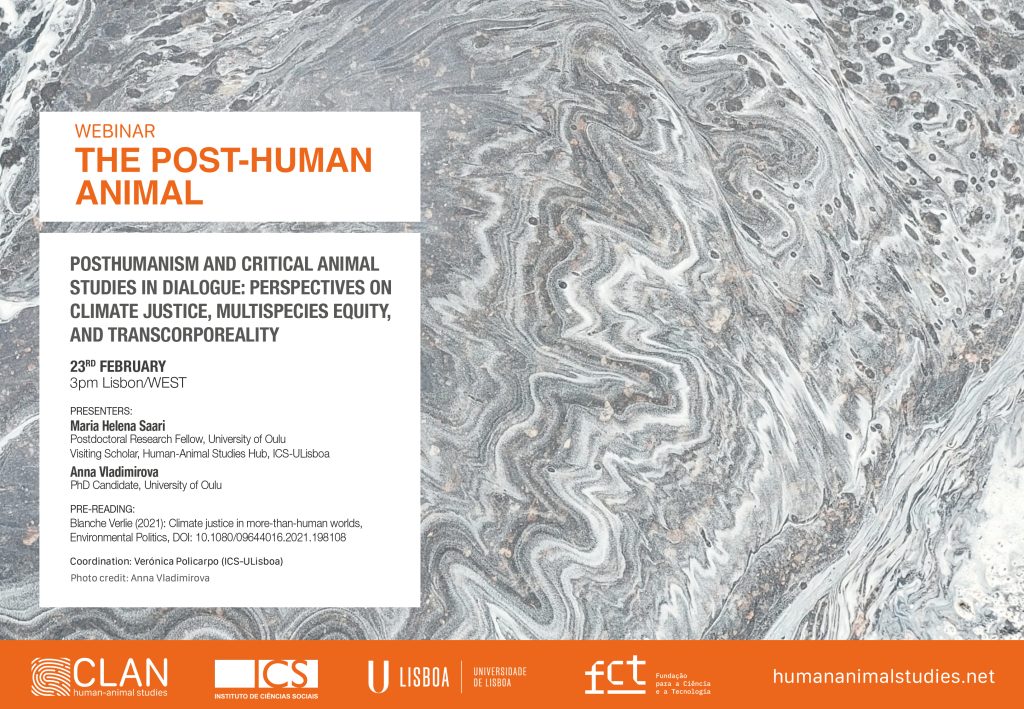 Verónica holds a PhD in Sociology, and is a social researcher in the field of Human-Animal Studies, at the Institute of Social Sciences of the University of Lisbon. Here, she currently convenes the Human-Animal Studies Hub, and coordinates two research projects: CLAN, on children and companion animals; and Liminal Becomings, on animals in disasters. At ICS-ULisboa she also coordinates the post-graduate course "Animais e Sociedade"; the reading group Animal Wonder; and she co-coordinates the International Summer-School in Human Animal Studies (with Malärden University, Sweden).
Verónica's webpage: veronicapolicarpo.net
PhD candidate at Vrije Universiteit Brussel (Belgium)
Mariska Jung (she/her) is a PhD candidate at the Vrije Universiteit Brussel (Belgium). She is based at the Department for Political Sciences and affiliated to RHEA, the university's research centre on gender, diversity and intersectionality. Additionally, she is a member of the Race-Religion Constellation research hub at Radboud Universiteit Nijmegen, the Netherlands. Jung studies contemporary racism in Europe and theorizes the dynamics between race, religion and animal(s/ity). Prior to her PhD, Jung worked as a researcher with anti-discrimination NGOs in Belgium and the Netherlands. She graduated cum laude from the University of Amsterdam (the Netherlands) with two bachelors in Philosophy and Interdisciplinary Social Sciences, and obtained a master in Migration and Development Studies also cum laude from SOAS University of London (UK), where she specialized in queer migration and asylum politics. 
Universiteit Katholieke Leuven
Kristen Livera is an Anthropologist who investigates the intersubjective experiences of interspecies entanglements that transversally connect beings in a network of meanings. She develops a multi-constructivist ethology to cultivate an attention towards the interdependent relations woven between species. Within these shared milieux, her research attends to the reconfigurations and rearticulations of human and animal bodies, of shared sociality amongst our non-human co-conspirators. She implements a paralinguistic approach to take head on how forms of resemiotisation are coevolutive, affective forces that coconstruct spaces of becoming. 
Academy of Fine Arts Vienna, Institute for Education in the Arts
Karin Reisinger is FWF Hertha Firnberg fellow at the Academy of Fine Arts Vienna, Institute for Education in the Arts, following a PhD in visual culture and fellowships at ArkDes and KTH Stockholm School of Architecture (postdoc) which allowed her to engage with unexpected human and non-human actors of the mining areas of Northern Sweden. Working at the intersection of architectures and cultural studies, feminisms, ecologies and materialisms, recent book chapters include 'Radically Alive, a Disappearing Mining Town at Europe's Margins' in Architectures of Life and Death (2021), 'Reflection about a Disappearing Mining Town in the Archive: Staying with its Non-Permanency' in ArkDes Research Symposium and 'Connective Oscillations: Architectures Between the Devil and the Deep Blue Sea' in More (both 2020). Karin co-organised the AHRA conference Architecture & Feminisms: Ecologies, Economies, Technologies (2016) and co-edited the subsequent volumes Architecture and Culture 5(3) and field 7(1), both 2017.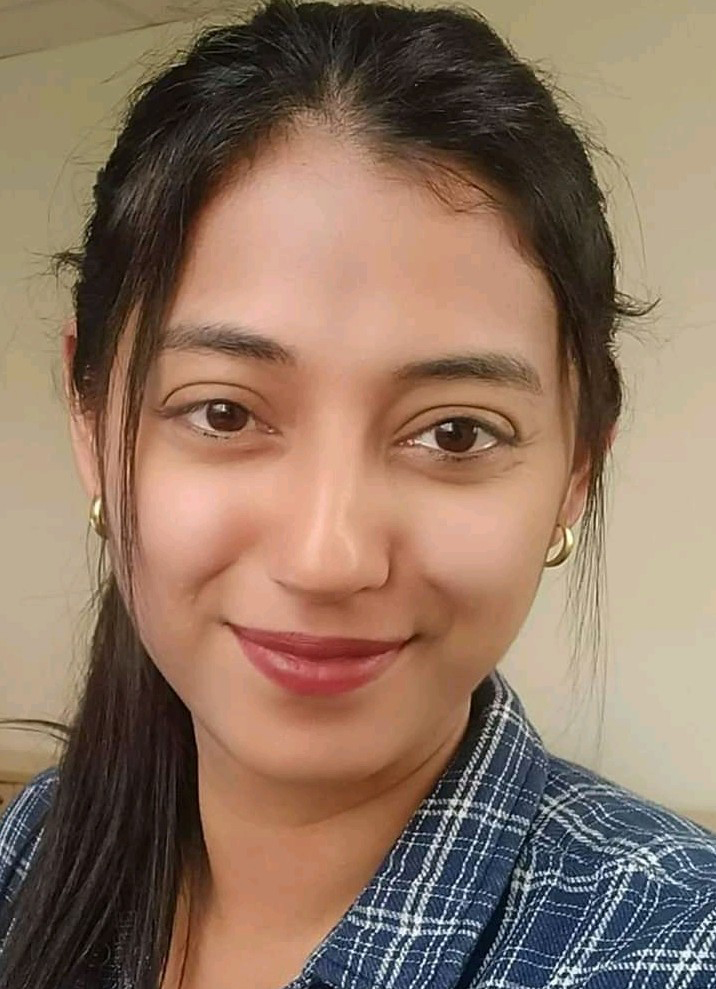 School of Humanities & Social Science - GD Goenka University
Aadya Prasad's forte in the area of literary theory and postcolonialism. She is an active researcher in Human-Animal Studies & has presented in national and international forums on the same.
University of Johannesburg
Dr. Vanessa Wijngaarden is a senior research associate at the University of Johannesburg, with a background in social anthropology and political science. She works on 'othering', multivocality in academia, and human-animal relationships. With a passion for reflexive approaches, extensive fieldwork and creative research dissemination, she has made several award winning documentaries. She teaches Q methodology and works as a certified ATLAS.ti senior professional trainer on three continents, and pursues to contributing to an engaged academic future in which knowledge is acknowledged as an intersubjective achievement, and an openness towards multiple ontologies, epistemologies and methodologies subjects dominant and taken-for-granted experiences, assumptions and motivations to critique.
Pedro Figueiredo Neto (1984), anthropologist and filmmaker. ​He is an architect by training (FAUP, Portugal), and obtained his PhD in Anthropology by the École des Hautes Études en Sciences Sociales (EHESS-Paris) and ISCTE-IUL in 2016. He is a researcher at the ICS-ULisboa since 2017. Drawing on a solid ethnographic approach, his research focus on topics such as forced displacement, borders, mobility, development, extractivism, refuge, and violence, namely in the African context (Angola, Zambia, Mozambique, Guinea-Bissau, Senegal). In addition to published articles in international journals, the multimodal strand has been gaining prominence in his work, with a set of authored audiovisual essays, documentary and fiction films, soundscapes and artistic installations.
Federal University of Espírito Santo
Leticia Fantinel is a professor at the Department and Postgraduate Program in Administration in the Federal University of Espírito Santo, Brazil. PhD in Business Administration (Federal University of Bahia, Brazil, with internship at Paris IX University, France), Master and Bachelor in Business Administration (Federal University of Rio Grande do Sul, Brazil). Coordinator of the Study Group on Symbolism and Daily Practices in Organizations – GESIP/UFES. Coordinator of Work Group "Organizational and socio-environmental dynamics in the Anthropocene" at the Association for Research in Administration in Brazil (Anpad). Her research interests include: relationships between animals and organizations, organizational practices involving non-human beings, multispecies studies. Between 2022 and 2023, Letícia is a Visiting Researcher at the HAS-Hub and ICS-ULisboa, where she develops a post-doctoral research in collaboration with project Liminal Becomings: reframing human-animal relations in natural disasters. [CEECIND/02719/2017]. Liminal Becomings: reframing human-animal relations in natural disasters [CEECIND/02719/2017].
Mato Grosso´s State University
Eveline Baptistella (Ph.D. in Contemporary Culture Studies – Communication and Culture, by Mato Grosso´s Federal University – Brazil) is a researcher and journalism titular professor at the Mato Grosso´s State University.  She dedicates her research to the field of animal studies, media studies, and environmental and scientific journalism. Baptistella also coordinates the research project "Animal Studies and Media", which includes the study of the relationships between human and nonhuman animals in contemporary society and the representation of nonhuman animals in the media.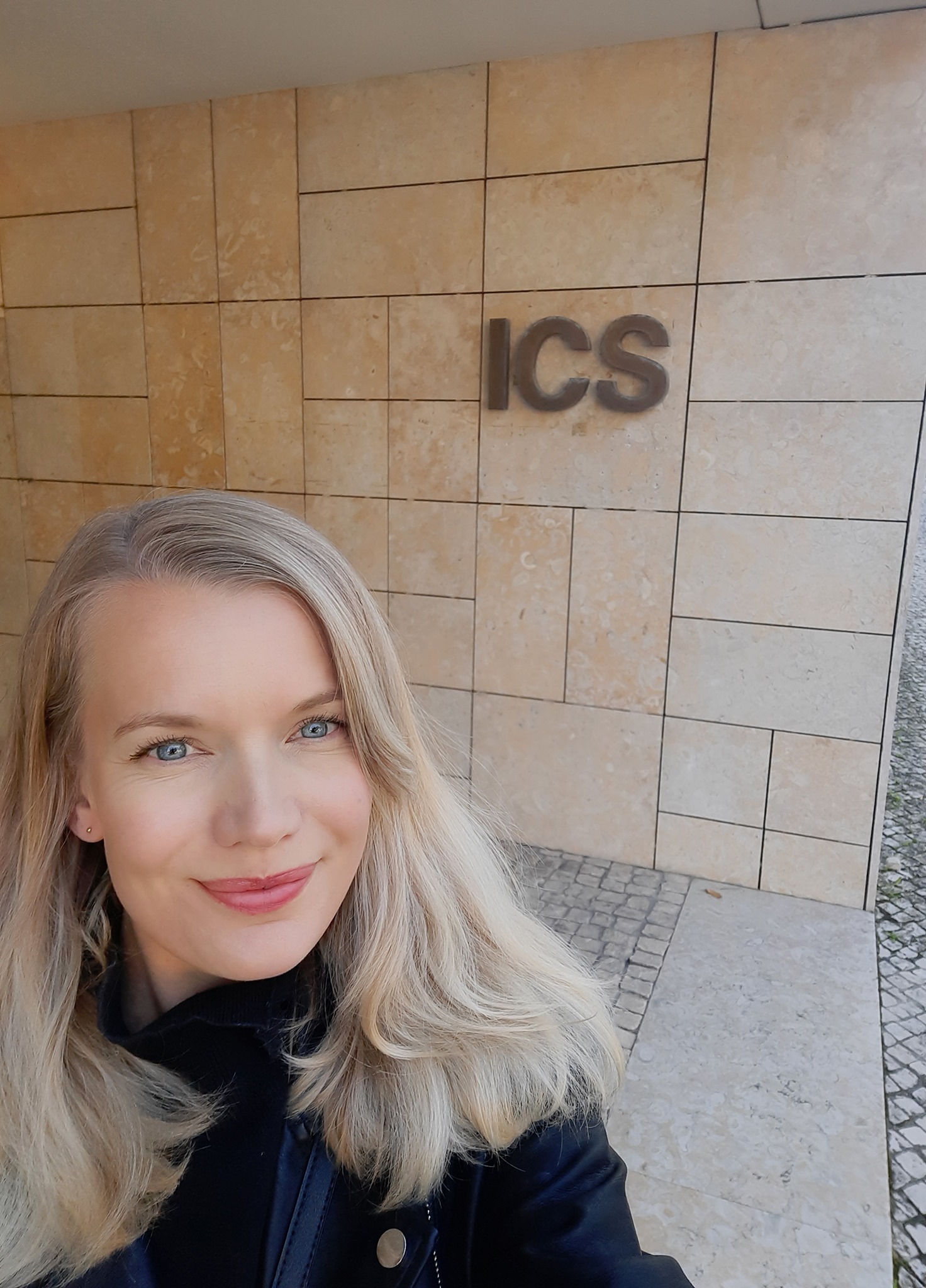 University of Oulu / Visiting Scholar at the Human-Animal Studies Hub
Maria Helena Saari is a Postdoctoral Research Fellow at the Faculty of Education at the University of Oulu and Visiting Scholar at the Human-Animal Studies Hub. She is currently Co-Leader of the Envisioning Sustainability Research Hub of the Biodiverse Anthropocenes Research Program and Chair of the Finnish Critical Animal Studies Network (CASFinland). She was awarded the Senior Animal Law Researcher Award by the International Centre for Animal Law & Policy (ICALP) for her doctoral thesis 'Animals as stakeholders in education: Towards an educational reform for interspecies sustainability'. Her interdisciplinary research focuses on animals in education (policy and pedagogy), interspecies sustainability and justice, environmental education, and animal law. She coordinates and teaches undergraduate courses on environmental education and multispecies childhood studies. Prior to her research career, Maria worked in the field of education in teaching and leadership roles.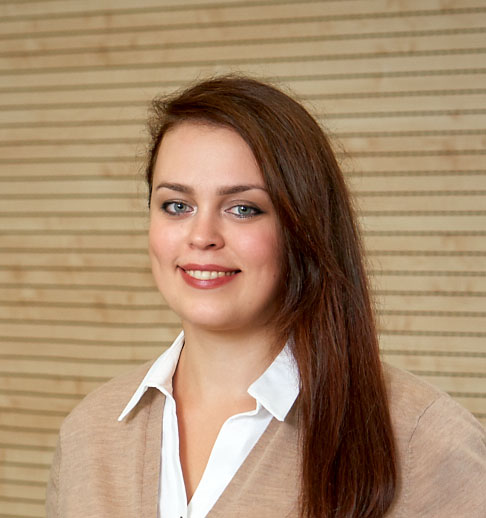 Faculty of Education and Psychology, University of Oulu
Anna Vladimirova PhD Candidate at the Faculty of Education and Psychology, University of Oulu. She is also a part-time coordinator of the Biodiverse Anthropocenes Research Programme (ANTS).  Anna's research is located at the intersection of early childhood education and outdoor learning. In her study she discusses the anthropocentrism of adventure education and advocates for diversification of outdoor learning approaches in the context of Finland by moving away from children-centred to relational pedagogies. Her main research interests include place-responsive pedagogy and body-place relations, ethics in multispecies encounters, affective materialities of the ordinary. She teaches "Introduction to Environmental Education" course for MA students and coordinates various events dedicated to exploring questions of environmental sustainability. Anna gained her intercultural teaching experience through working as an EFL teacher both in Thailand and Russia.