Educational outreach – exploring human-animal relations and culture with high school students
A 2 de Março de 2023, a Equipa Educativa do HAS-Hub foi convidada a visitar a Escola Rainha Dona Leonor em Lisboa. Juntamente com os alunos da classe de Ciência e Tecnologia, explorámos as origens e impactos da tourada em Portugal, bem como as alternativas à tourada. Os alunos deram-nos muito que pensar e apresentaram perspectivas interessantes sobre como a tourada poderia mudar, ou se deveria ser abolida, no futuro. As touradas são um exemplo interessante das formas como as culturas e tradições humanas influenciam a vida dos animais.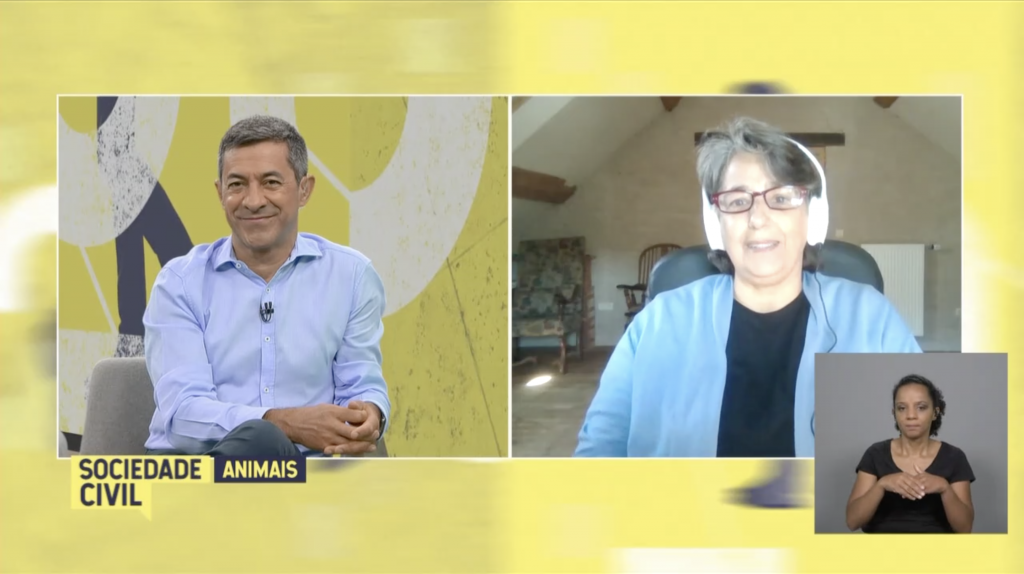 Sociedade Civil RTP 2
No dia 4 de outubro de 2021, o programa Sociedade Cilvil da RTP 2 abordou a relação entre o ser humano e os animais não-humanos. O programa contou com a participação da investigadora do HAS-Hub, Teresa Líbano Monteiro (participação entre os 40:10 e 46:20 minutos do episódio 135 temporada 17). 
Click the button below to watch the full episode
"Famílias multiespécies e a reinvenção da vida frágil"
Artigo para o jornal Público no Dia Mundial do Animal de 04/10/2020
"Quão interligadas estão as vidas de humanos e de outros animais? Habitando mundos de afetos mais ou menos intensos, e de várias latitudes, compreender a complexidade das relações interespécies implica olhar para aquilo que une uns e outros, na sua condição de fragilidade partilhada, enquanto seres vivos num planeta em risco."
Clique no botão em baixo para ler o artigo completo!
Entrevista para o canal Conexão Natureza
 No dia 27 de Julho, a coordenadora do HAS-Hub, Verónica Policarpo, deu uma entrevista para o canal de youtube "Conexão Natureza" onde falou sobre práticas entre crianças e animais de companhia, bem como da sua experiência no trabalho de campo do projeto CLAN.. 
Sociedade Civil RTP 2
On the 25 of June 2020, the television show "Sociedade Civil" approached the subject of human/animal relations. The coordinator of the HAS-Hub and the project CLAN, Verónica Policarpo, was invited to talk about the Human-Animal Studies field in Portugal, and briefly about our relations with other animals. 
Click the button below to watch the full episode
"Daisy, vamos ao parque? Crianças e animais na cidade" 
Workshop CriCity
On the 25th of October, CLAN participated in a workshop organized by the project CriCity, named "Espaços Públicos Infantis: Ilhas de Liberdade na Cidade?". The CLAN's contribution was given by Verónica Policarpo with the presentation "Daisy, vamos ao parque? Crianças e animais na cidade". This presentation aimed to examine the subject of children and animals in the city. The presentation focused on the several kinds of animals that children might find in the city, from their own companion animals, to other "undesirable" animals like rats, insects, pigeons and stray animals.
Fronteiras XXI: "Nós e os Animais" 
The PI of the project CLAN, Verónica Policarpo, was on a tv show, from the RTP 3 channel, called "Fronteiras XXI". This broadcast was entitled "Nós e os Animais" (Animals and US). In this session were covered multiple subjects, such as: the hierarchization of animals, the importance of institutions like zoos and aquariums for nature conservation, human-animal relationships, animals within the human family, animal law, animal care and the growing pet industry.
Click below to watch the full show